Archives
---
Be trained by SensioLabs experts (2 to 6 day sessions -- French or English).
trainings.sensiolabs.com
ServerGrove, outstanding support at the right price for your Symfony hosting needs.
servergrove.com
Access to the SensioLabs Competency Center for an exclusive and tailor-made support on Symfony
sensiolabs.com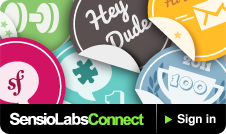 Blog
A week of symfony #122 (27 April - 3 May 2009)
Symfony developers worked hard on Symfony 1.3 during this week. Besides the usual bugfixes and refactorings, Symfony 1.3 removed the common filter and the freeze/unfreeze tasks. Meanwhile, two new versions of symfony 1.2.x branch were released with tons of fixes.
Development mailing list
Development highlights
Development digest: 260 changesets, 23 bugs reported, 20 bugs fixed, 8 enhancements suggested, 6 enhancements closed, 6 documentation defects reported, 5 documentation defects fixed, and 9 documentation edits.
Documentation
New symfony bloggers
Plugins
Updated plugins
They talked about us
IN THE NEWS
Announcing the next Symfony Live Conference 2013 in Portland