Archives
---
Be trained by SensioLabs experts (2 to 6 day sessions -- French or English).
trainings.sensiolabs.com
ServerGrove, outstanding support at the right price for your Symfony hosting needs.
servergrove.com
Access to the SensioLabs Competency Center for an exclusive and tailor-made support on Symfony
sensiolabs.com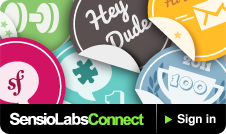 Blog
A week of symfony #281 (14->20 May 2012)
This week, Symfony 2.0.14 was released and the new OptionsResolver component was introduced. In addition, the first Symfony Community Survey was published to get a better understanding of the Symfony community.
Symfony2 development highlights
Repository summary: 4,694 watchers (#1 in PHP, #30 overall) and 1226 forks (#1 in PHP, #12 overall).
Updated plugins
They talked about us
IN THE NEWS
Announcing the next Symfony Live Conference 2013 in Portland