Archives
---
Be trained by SensioLabs experts (2 to 6 day sessions -- French or English).
trainings.sensiolabs.com
ServerGrove, outstanding support at the right price for your Symfony hosting needs.
servergrove.com
Access to the SensioLabs Competency Center for an exclusive and tailor-made support on Symfony
sensiolabs.com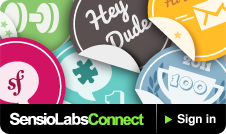 Blog
A week of symfony #283 (28 May -> 3 June 2012)
This week, two new versions were released: Symfony 2.0.15, including minor fixes and tweaks, and symfony 1.0.14, a security release that address a security vulnerability. In addition, this week started the integration of Symfony2 components into the core of Drupal 8.
Development mailing list
symfony 1 development highlights
Symfony2 development highlights
Repository summary: 4,823 watchers (#1 in PHP, #30 overall) and 1270 forks (#1 in PHP, #12 overall).
Updated plugins
They talked about us
IN THE NEWS
Announcing the next Symfony Live Conference 2013 in Portland