Archives
---
Be trained by SensioLabs experts (2 to 6 day sessions -- French or English).
trainings.sensiolabs.com
ServerGrove, outstanding support at the right price for your Symfony hosting needs.
servergrove.com
Access to the SensioLabs Competency Center for an exclusive and tailor-made support on Symfony
sensiolabs.com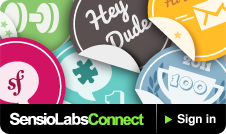 Blog
A week of symfony #290 (16->22 July 2012)
This week, the Form component continued focusing all the Symfony2 development activity. Besides some tweaks and refactorings, most of the commits were related to form performance improvement. In addition, the official code repository achieved another remarkable milestone: more than 5,000 pull requests received.
Symfony2 development highlights
ed8823c: [HttpFoundation] allowed setting an unknown status code without specifying a text
16a980b: [Validator] fixed bug order for constraint, property, getter and group-sequence-provider in validation.xml
4f93d1a: [Console] used proc_open instead of exec to suppress errors when run on windows and stty is not present
Repository summary: 5,275 watchers (#1 in PHP, #31 overall) and 1,416 forks (#1 in PHP, #13 overall).
They talked about us
IN THE NEWS
Announcing the next Symfony Live Conference 2013 in Portland