Archives
---
Be trained by SensioLabs experts (2 to 6 day sessions -- French or English).
trainings.sensiolabs.com
ServerGrove, outstanding support at the right price for your Symfony hosting needs.
servergrove.com
Access to the SensioLabs Competency Center for an exclusive and tailor-made support on Symfony
sensiolabs.com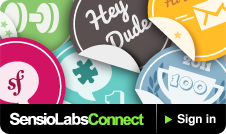 Blog
A week of symfony #294 (13->19 August 2012)
As the Symfony 2.1 release date approaches, this week all the efforts were aimed at fixing the few issues still flagged as blockers for Symfony 2.1.
Development mailing list
Symfony2 development highlights
Repository summary: 5,403 watchers (#1 in PHP, #34 overall) and 1,494 forks (#1 in PHP, #13 overall).
They talked about us
IN THE NEWS
Announcing the next Symfony Live Conference 2013 in Portland