Archives
---
Be trained by SensioLabs experts (2 to 6 day sessions -- French or English).
trainings.sensiolabs.com
ServerGrove, outstanding support at the right price for your Symfony hosting needs.
servergrove.com
Access to the SensioLabs Competency Center for an exclusive and tailor-made support on Symfony
sensiolabs.com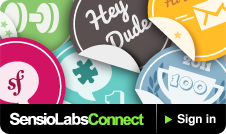 Blog
A week of symfony #38 (17->23 September 2007)
The road to symfony 1.1 continues with more changesets and internal refactoring. Lots of new and updated plugins and lots of new symfony-powered websites.
Symfony will soon have a new plugin system. Plugins will be easier to install with the plugin:install task and it will be easier to maintain different versions for symfony 1.0 and 1.1
Development highlights
Development digest: 75 changesets, 23 defects created, 13 defects closed, 6 enhancements created, 5 enhancement closed, 4 documentation defects created and 67 documentation edits.
Book and documentation
Approximate status of book translations: spanish (99%), italian (89%), polish (85%) chinese (26%), russian (26%), french (25%), brazilian portuguese (15%) deutsch (15%), dutch (15%), japanese (-).
Wiki
New Job Postings:

Symfony Developer - LiveXChange, Inc - Work remotely (US or Canadian Citizens only, please) - Contact: ebrigham [at] shiftsolutions [dot] com
Symfony Developer - Twist Image - Full-time based in Montreal, Quebec, Canada - Contact: careers [at] twistimage [dot] com

New developers for hire:

Dave Dash/Spindrop: offers support and consulting on symfony projects. Best practices, configuration, plugins, caching, version control, and symfony internals are just some of the areas that I offer support for. Support is given over Skype, email or phone. I've been actively using symfony since December 2005.
Myke Hines (myke [at] webhines [dot] com): offers Support and Consulting on Symfony projects. Best practices, configuration, plugins, caching, high performance, and symfony internals are just some of the areas that we offer support for. Support is given over Skype, email or phone. We have been supporting Symfony projects since Feb 2006 and using Symfony since Oct 2005.
Gerald Estadieu: web developer/project manager for 10+ years. I work mainly in PHP/Ajax/Java, using Symfony recently for a web app and geospatial projects. I am available for freelance job or for a position in a company (Europe, Asia or US). Languages: French (native), English and Spanish.
Lucas Peres (mysyfy [at] gmail [dot] com): freelance developer with symfony as preferred framework. Already full developed middle port symfony based websites for UK and Brazil. About 6 projects (up to sep/07) live based on symfony.

New symfony blogger:
Plugins
New plugins
Updated plugins
Some new symfony powered websites
They talked about us
IN THE NEWS
Announcing the next Symfony Live Conference 2013 in Portland