Archives
---
Be trained by SensioLabs experts (2 to 6 day sessions -- French or English).
trainings.sensiolabs.com
Access to the SensioLabs Competency Center for an exclusive and tailor-made support on Symfony
sensiolabs.com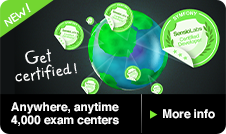 Archives for 01/2012
---
---
This week, Form and Validator were the most active components on the Symfony2 master branch. First, the CollectionValidator introduced new Optional and Required constraints. Second, the validation of form children was made configurable, meaning that child forms now aren't validated anymore by default (bc-break change).
---
---
The long awaited results of the first Symfony community awards are known. Congratulations if you are in the list!
---
---
Symfony 2.0.9 has just been released.
---
We need your help! As a community, we've put a lot of work into the Symfony2 framework documentation. It's not perfect, but there's a lot of great resources. Now it's time to focus on documentation for the individual components.
---
The Symfony2 DoctrineBundle has been moved to the Doctrine organization.
---
IN THE NEWS

Symfony Certification: Now in 4,000 centers around the world!