Archives
---
Be trained by SensioLabs experts (2 to 6 day sessions -- French or English).
trainings.sensiolabs.com
ServerGrove, outstanding support at the right price for your Symfony hosting needs.
servergrove.com
Access to the SensioLabs Competency Center for an exclusive and tailor-made support on Symfony
sensiolabs.com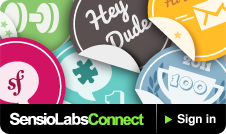 Blog
As the features for symfony 1.1 are quite finished now, it's time to move on and start the release process.
To ease things, I've created 2 new branches. The /branches/1.1 hosts the upcoming 1.1 release and /doc/branches/1.1 hosts the 1.1 documentation.
So, if you want your project to be compatible with symfony 1.1 and if you've already started a project using the Subversion /trunk, please switch them to use /branches/1.1 instead.
Be aware that the trunk (the future 1.2 release) will become unstable in the coming weeks as I will make some significant changes there.
So, to sum up:
If you want to use the latest stable symfony release, use /branches/1.0 (or the PEAR package, or the sandbox)
If you want to help testing the upcoming symfony 1.1 release, use /branches/1.1
And don't use the /trunk... except if you're totally crazy ;-)
IN THE NEWS
Announcing the next Symfony Live Conference 2013 in Portland