Table of Contents
Questions & Feedback
Found a typo or an error?
Want to improve this document? Edit it.
Need support or have a technical question?
Post to the user mailing-list.

This
work
is licensed under a
Creative Commons
Attribution-Share Alike 3.0
Unported
License
.
---
Be trained by SensioLabs experts (2 to 6 day sessions -- French or English).
trainings.sensiolabs.com
ServerGrove, outstanding support at the right price for your Symfony hosting needs.
servergrove.com
Access to the SensioLabs Competency Center for an exclusive and tailor-made support on Symfony
sensiolabs.com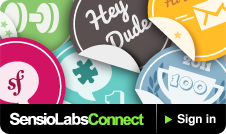 2.3 version

SensioGeneratorBundle
SensioGeneratorBundle¶
The SensioGeneratorBundle extends the default Symfony2 command line interface by providing new interactive and intuitive commands for generating code skeletons like bundles, form classes or CRUD controllers based on a Doctrine 2 schema.
Installation¶
Download the bundle and put it under the Sensio\\Bundle\\ namespace. Then, like for any other bundle, include it in your Kernel class:
public

 

function

 

registerBundles

()




{


    

$bundles

 

=

 

array

(


        

...



        

new

 

Sensio\Bundle\GeneratorBundle\SensioGeneratorBundle

(),


    

);



    

...




}



List of Available Commands¶
The SensioGeneratorBundle comes with four new commands that can be run in interactive mode or not. The interactive mode asks you some questions to configure the command parameters to generate the definitive code. The list of new commands are listed below:
IN THE NEWS
Announcing the next Symfony Live Conference 2013 in Portland