Table of Contents
Questions & Feedback
Found a typo or an error?
Want to improve this document? Edit it.
Need support or have a technical question?
Post to the user mailing-list.

This
work
is licensed under a
Creative Commons
Attribution-Share Alike 3.0
Unported
License
.
---
Be trained by SensioLabs experts (2 to 6 day sessions -- French or English).
trainings.sensiolabs.com
ServerGrove, outstanding support at the right price for your Symfony hosting needs.
servergrove.com
Access to the SensioLabs Competency Center for an exclusive and tailor-made support on Symfony
sensiolabs.com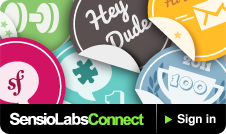 master version

Testing with Sessions
Testing with Sessions¶
Symfony2 is designed from the ground up with code-testability in mind. In order to make your code which utilizes session easily testable we provide two separate mock storage mechanisms for both unit testing and functional testing.
Testing code using real sessions is tricky because PHP's workflow state is global and it is not possible to have multiple concurrent sessions in the same PHP process.
The mock storage engines simulate the PHP session workflow without actually starting one allowing you to test your code without complications. You may also run multiple instances in the same PHP process.
The mock storage drivers do not read or write the system globals session_id() or session_name(). Methods are provided to simulate this if required:
Unit Testing¶
For unit testing where it is not necessary to persist the session, you should simply swap out the default storage engine with MockArraySessionStorage:
use

 

Symfony\Component\HttpFoundation\Session\Storage\MockArraySessionStorage

;




use

 

Symfony\Component\HttpFoundation\Session\Session

;





$session

 

=

 

new

 

Session

(

new

 

MockArraySessionStorage

());



Functional Testing¶
For functional testing where you may need to persist session data across separate PHP processes, simply change the storage engine to MockFileSessionStorage:
use

 

Symfony\Component\HttpFoundation\Session\Session

;




use

 

Symfony\Component\HttpFoundation\Session\Storage\MockFileSessionStorage

;





$session

 

=

 

new

 

Session

(

new

 

MockFileSessionStorage

());



---
IN THE NEWS
Announcing the next Symfony Live Conference 2013 in Portland