Table of Contents
Questions & Feedback
Found a typo or an error?
Want to improve this document? Edit it.
Need support or have a technical question?
Post to the user mailing-list.

This
work
is licensed under a
Creative Commons
Attribution-Share Alike 3.0
Unported
License
.
---
Be trained by SensioLabs experts (2 to 6 day sessions -- French or English).
trainings.sensiolabs.com
ServerGrove, outstanding support at the right price for your Symfony hosting needs.
servergrove.com
Access to the SensioLabs Competency Center for an exclusive and tailor-made support on Symfony
sensiolabs.com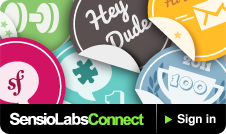 2.3 version

Problemi di sicurezza
Problemi di sicurezza¶
Questo documento spiega la gestione da parte della squadra di Symfony dei problemi di sicurezza di Symfony (In cui "Symfony" è il codice ospitato nel repository Git symfony/symfony.
Segnalare un problema di sicurezza¶
Se si è trovato un problema di sicurezza in Symfony, non utilizzare la lista o il bug tracker e non diffonderlo pubblicamente. Tutte le questioni di sicurezza devono essere inviate a security [at] symfony-project.com. Le email inviate a questo indirizzo verranno inoltrate alla squadra di sviluppo di Symfony .
Processo di risoluzione¶
Per ogni rapporto, prima si cercherà di confermare la vulnerabilità. Quando confermata, la squadra di sviluppo lavorerà a una soluzione seguendo questi passi:
Inviare un riconoscimento al segnalatore;
Lavorare su una patch;
Ottenere un identificatore CVE da mitre.org;
Scrivere un annuncio sul blog di Symfony, che descriva la vulnerabilità. Tale post dovrebbe contenere le seguenti informazioni:

un titolo che includa sempre la stringa "Security release";
una descrizione della vulnerabilità;
le versioni afflitte;
i possibili exploit;
come applicare patch/aggiornamenti/workaround alle applicazioni afflitte;
l'identificatore CVE;
riconoscimenti.

Inviare patch e annuncio al segnalante per una revisione;
Applicare la patch a tutte le versioni di Symfony in manutenzione;
Pacchettizzare nuove versioni per tutte le versioni afflitte;
Pubblicare il post sul blog ufficiale di Symfony (va anche aggiunti alla categoria "Security Advisories");
Aggiornare la lista degli avvisi di sicurezza (vedere sotto).
Note
I rilasci che includono questioni di sicurezza non andrebbero fatti di sabato o domenica, a meno che la vulnerabilità non sia stata resa pubblica.
Note
Mentre la patch è in corso di lavorazione, si prega di non rivelare pubblicamente la problematica.
Bollettini di sicurezza¶
Questa sezione elenca le vulnerabilità di sicurezza che sono state risolte in Symfony, partendo da Symfony 1.0.0:
---
IN THE NEWS
Announcing the next Symfony Live Conference 2013 in Portland