Table of Contents
Questions & Feedback
Found a typo or an error?
Want to improve this document? Edit it.
Need support or have a technical question?
Post to the user mailing-list.

This
work
is licensed under a
Creative Commons
Attribution-Share Alike 3.0
Unported
License
.
---
Be trained by SensioLabs experts (2 to 6 day sessions -- French or English).
trainings.sensiolabs.com
ServerGrove, outstanding support at the right price for your Symfony hosting needs.
servergrove.com
Access to the SensioLabs Competency Center for an exclusive and tailor-made support on Symfony
sensiolabs.com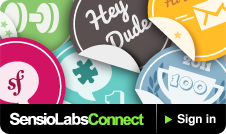 2.3 version

Come creare un comando di console
Come creare un comando di console¶
La pagina Console della sezione dei componenti (Il componente Console) spiega come creare un comando di console. Questa ricetta spiega invece le differenze nella creazione di comandi di console con il framework Symfony2.
Registrare comandi automaticamente¶
Per rendere disponibili automaticamente i comandi in Symfony2, creare una cartella Command nel proprio bundle e creare un file php, con suffisso Command.php, per ciascun comando che si vuole fornire. Per esempio, se si vuole estendere AcmeDemoBundle (disponibile nella Standard Edition di Symfony), per mandare un saluto dalla linea di comando, creare GreetCommand.php e aggiungervi il codice seguente:
 1
 2
 3
 4
 5
 6
 7
 8
 9
10
11
12
13
14
15
16
17
18
19
20
21
22
23
24
25
26
27
28
29
30
31
32
33
34
35
36
37

// src/Acme/DemoBundle/Command/GreetCommand.php




namespace

 

Acme\DemoBundle\Command

;





use

 

Symfony\Bundle\FrameworkBundle\Command\ContainerAwareCommand

;




use

 

Symfony\Component\Console\Input\InputArgument

;




use

 

Symfony\Component\Console\Input\InputInterface

;




use

 

Symfony\Component\Console\Input\InputOption

;




use

 

Symfony\Component\Console\Output\OutputInterface

;





class

 

GreetCommand

 

extends

 

ContainerAwareCommand




{


    

protected

 

function

 

configure

()


    

{


        

$this


            

->

setName

(

'demo:greet'

)


            

->

setDescription

(

'Saluta qualcuno'

)


            

->

addArgument

(

'name'

,

 

InputArgument

::

OPTIONAL

,

 

'Chi vuoi salutare?'

)


            

->

addOption

(

'yell'

,

 

null

,

 

InputOption

::

VALUE_NONE

,

 

'Se impostato, urlerà in lettere maiuscole'

)


        

;


    

}



    

protected

 

function

 

execute

(

InputInterface

 

$input

,

 

OutputInterface

 

$output

)


    

{


        

$name

 

=

 

$input

->

getArgument

(

'name'

);


        

if

 

(

$name

)

 

{


            

$text

 

=

 

'Ciao '

.

$name

;


        

}

 

else

 

{


            

$text

 

=

 

'Ciao'

;


        

}



        

if

 

(

$input

->

getOption

(

'yell'

))

 

{


            

$text

 

=

 

strtoupper

(

$text

);


        

}



        

$output

->

writeln

(

$text

);


    

}




}



Ora il comando sarà automaticamente disponibile:
$ 

app/console demo:greet Fabien

Getting Services from the Service Container¶
Usando ContainerAwareCommand come classe base per il comando (al posto della più basica Command), si ha accesso al contenitore di servizi. In altre parole, si ha accesso a qualsiasi servizio configurato. Per esempio, si può facilmente estendere il task per essere traducibile:
protected

 

function

 

execute

(

InputInterface

 

$input

,

 

OutputInterface

 

$output

)




{


    

$name

 

=

 

$input

->

getArgument

(

'name'

);


    

$translator

 

=

 

$this

->

getContainer

()

->

get

(

'translator'

);


    

if

 

(

$name

)

 

{


        

$output

->

writeln

(

$translator

->

trans

(

'Hello %name%!'

,

 

array

(

'%name%'

 

=>

 

$name

)));


    

}

 

else

 

{


        

$output

->

writeln

(

$translator

->

trans

(

'Hello!'

));


    

}




}



Testare i comandi¶
Quando si testano i comandi usati come parte di un framework, andrebbe usata Application al posto di Application:
 1
 2
 3
 4
 5
 6
 7
 8
 9
10
11
12
13
14
15
16
17
18
19
20
21

use

 

Symfony\Component\Console\Tester\CommandTester

;




use

 

Symfony\Bundle\FrameworkBundle\Console\Application

;




use

 

Acme\DemoBundle\Command\GreetCommand

;





class

 

ListCommandTest

 

extends

 

\PHPUnit_Framework_TestCase




{


    

public

 

function

 

testExecute

()


    

{


        

// fare un mock del Kernel o crearme uno, a seconda delle esigenze


        

$application

 

=

 

new

 

Application

(

$kernel

);


        

$application

->

add

(

new

 

GreetCommand

());



        

$command

 

=

 

$application

->

find

(

'demo:greet'

);


        

$commandTester

 

=

 

new

 

CommandTester

(

$command

);


        

$commandTester

->

execute

(

array

(

'command'

 

=>

 

$command

->

getName

()));



        

$this

->

assertRegExp

(

'/.../'

,

 

$commandTester

->

getDisplay

());



        

// ...


    

}




}



Per poter usare il contenitore in modo completo per i test della console, si può estendere il test da SymfonyBundleFrameworkBundleTestWebTestCase:
 1
 2
 3
 4
 5
 6
 7
 8
 9
10
11
12
13
14
15
16
17
18
19
20
21
22
23
24

use

 

Symfony\Component\Console\Tester\CommandTester

;




use

 

Symfony\Bundle\FrameworkBundle\Console\Application

;




use

 

Symfony\Bundle\FrameworkBundle\Test\WebTestCase

;




use

 

Acme\DemoBundle\Command\GreetCommand

;





class

 

ListCommandTest

 

extends

 

WebTestCase




{


    

public

 

function

 

testExecute

()


    

{


        

$kernel

 

=

 

$this

->

createKernel

();


        

$kernel

->

boot

();



        

$application

 

=

 

new

 

Application

(

$kernel

);


        

$application

->

add

(

new

 

GreetCommand

());



        

$command

 

=

 

$application

->

find

(

'demo:greet'

);


        

$commandTester

 

=

 

new

 

CommandTester

(

$command

);


        

$commandTester

->

execute

(

array

(

'command'

 

=>

 

$command

->

getName

()));



        

$this

->

assertRegExp

(

'/.../'

,

 

$commandTester

->

getDisplay

());



        

// ...


    

}




}



---
IN THE NEWS
Announcing the next Symfony Live Conference 2013 in Portland