Caution
: You are browsing the legacy

1.x
part of this website.
This version of symfony is not maintained anymore. If some of your projects still use this version, consider
upgrading
.
This work is licensed under the Creative Commons Attribution-Share Alike 3.0 Unported License license.
---
Be trained by SensioLabs experts (2 to 6 day sessions -- French or English).
trainings.sensiolabs.com
ServerGrove, outstanding support at the right price for your Symfony hosting needs.
servergrove.com
Access to the SensioLabs Competency Center for an exclusive and tailor-made support on Symfony
sensiolabs.com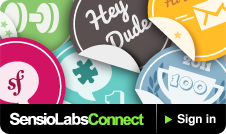 If you have followed the instructions from the previous chapters, you should now have a fully-functional symfony project, and are ready to experiment with symfony.
You can start reading more documentation on the main documentation page of your version.
On this page, you will find the Jobeet tutorial, which is probably the best way to learn symfony. It explains in great detail the development of a web application from start to finish, and also teaches you the best practices of a web development. You can also buy it as a printed book.
The symfony framework has a lot of great features and a lot of free documentation. That said, one of the most valuable assets an Open-Source project can have is its community, and symfony has one of the most active and friendly communities around. If you start using symfony for your projects, consider joining the symfony community:
---
IN THE NEWS
Announcing the next Symfony Live Conference 2013 in Portland