Caution
: You are browsing the legacy

1.x
part of this website.
---
Be trained by SensioLabs experts (2 to 6 day sessions -- French or English).
trainings.sensiolabs.com
ServerGrove, outstanding support at the right price for your Symfony hosting needs.
servergrove.com
Access to the SensioLabs Competency Center for an exclusive and tailor-made support on Symfony
sensiolabs.com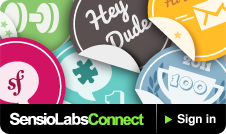 The symfony 1.x Homepage
The symfony 1.x branch of the framework started in 2005 and the latest stable version and long term support release is symfony 1.4. As of November 2012, symfony 1.x is not maintained anymore and you are encouraged to have a look at Symfony2 for any new projects.
---
IN THE NEWS
Announcing the next Symfony Live Conference 2013 in Portland