---
Be trained by SensioLabs experts (2 to 6 day sessions -- French or English).
trainings.sensiolabs.com
ServerGrove, outstanding support at the right price for your Symfony hosting needs.
servergrove.com
Access to the SensioLabs Competency Center for an exclusive and tailor-made support on Symfony
sensiolabs.com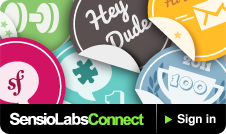 Mailing Lists
If you need help on symfony1, consider subscribing to the symfony1 user mailing-list:
You can also browse the archive of the old Users Group.
If you need help on Symfony2, consider subscribing to the Symfony2 user mailing-list:
If you want to contribute to the project, want to discuss a new feature, consider subscribing to the Symfony developer mailing-list:
IN THE NEWS
Announcing the next Symfony Live Conference 2013 in Portland