Publish Workflow
1.3 version
Maintained Unmaintained
Publish Workflow¶
The publish workflow system allows to control what content is available on the site. This is similar to the Symfony Security component. But contrary to the security context, the publish check can be executed even when no firewall is in place and the security context thus has no token (see Symfony Authorization).
The publish workflow is also tied into the security workflow: The CoreBundle registers a security voter that forwards security checks to the publish workflow. This means that if you always have a firewall, you can just use the normal security context and the Twig function is_granted to check for publication.
The default publish workflow corresponds to the following diagram: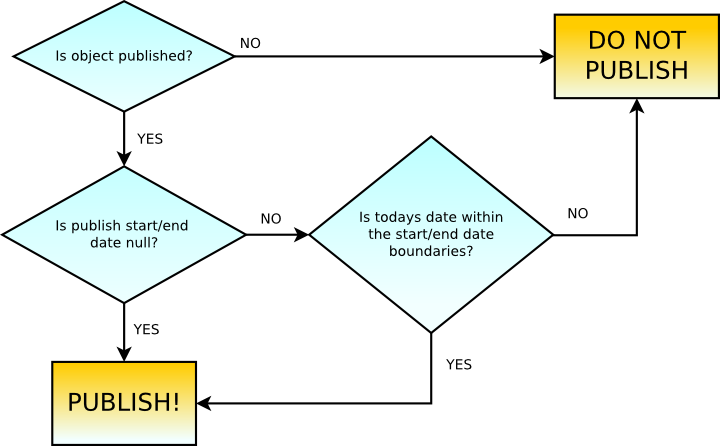 The return values for getPublishStartDate and getPublishEndDate can be null, in which case the start or end date is unbounded. For example, if the end date is null and the start date is 2013-09-29 then the object will be published on the start date and will never be "unpublished".
Editing Publish Workflow Information¶
There is a write interface for each publish workflow too, defining setter methods. You can implement the write interfaces in your models to make publication information editable. Instead of implementing PublishableReadInterface resp. PublishTimePeriodReadInterface, implement the interfaces PublishableInterface and / or PublishTimePeriodInterface in your models.
There is a Sonata admin extension available to edit workflow information on any document implementing the interface.