Table of Contents
Questions & Feedback
Found a typo or an error?
Want to improve this document? Edit it.
Need support or have a technical question?
Post to the user mailing-list.

This
work
is licensed under a
Creative Commons
Attribution-Share Alike 3.0
Unported
License
.
---
Be trained by SensioLabs experts (2 to 6 day sessions -- French or English).
trainings.sensiolabs.com
ServerGrove, outstanding support at the right price for your Symfony hosting needs.
servergrove.com
Access to the SensioLabs Competency Center for an exclusive and tailor-made support on Symfony
sensiolabs.com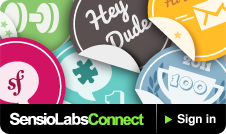 2.3 version

How to use PdoSessionHandler to store Sessions in the Database
How to use PdoSessionHandler to store Sessions in the Database¶
The default session storage of Symfony2 writes the session information to file(s). Most medium to large websites use a database to store the session values instead of files, because databases are easier to use and scale in a multi-webserver environment.
Symfony2 has a built-in solution for database session storage called PdoSessionHandler. To use it, you just need to change some parameters in config.yml (or the configuration format of your choice):
New in version 2.1: In Symfony2.1 the class and namespace are slightly modified. You can now find the session storage classes in the Session\Storage namespace: Symfony\Component\HttpFoundation\Session\Storage. Also note that in Symfony2.1 you should configure handler_id not storage_id like in Symfony2.0. Below, you'll notice that %session.storage.options% is not used anymore.
YAML

 1
 2
 3
 4
 5
 6
 7
 8
 9
10
11
12
13
14
15
16
17
18
19
20
21
22
23
24

# app/config/config.yml




framework

:


    

session

:


        

# ...


        

handler_id

:

     

session.handler.pdo





parameters

:


    

pdo.db_options

:


        

db_table

:

    

session


        

db_id_col

:

   

session_id


        

db_data_col

:

 

session_value


        

db_time_col

:

 

session_time





services

:


    

pdo

:


        

class

:

 

PDO


        

arguments

:


            

dsn

:

      

"mysql:dbname=mydatabase"


            

user

:

     

myuser


            

password

:

 

mypassword



    

session.handler.pdo

:


        

class

:

     

Symfony\Component\HttpFoundation\Session\Storage\Handler\PdoSessionHandler


        

arguments

:

 

[

"@pdo"

,

 

"%pdo.db_options%"

]




XML

 1
 2
 3
 4
 5
 6
 7
 8
 9
10
11
12
13
14
15
16
17
18
19
20
21
22
23
24
25
26

<!-- app/config/config.xml -->




<framework:config>


    

<framework:session

 

handler-id=

"session.handler.pdo"

 

cookie-lifetime=

"3600"

 

auto-start=

"true"

/>




</framework:config>





<parameters>


    

<parameter

 

key=

"pdo.db_options"

 

type=

"collection"

>


        

<parameter

 

key=

"db_table"

>

session

</parameter>


        

<parameter

 

key=

"db_id_col"

>

session_id

</parameter>


        

<parameter

 

key=

"db_data_col"

>

session_value

</parameter>


        

<parameter

 

key=

"db_time_col"

>

session_time

</parameter>


    

</parameter>




</parameters>





<services>


    

<service

 

id=

"pdo"

 

class=

"PDO"

>


        

<argument>

mysql:dbname=mydatabase

</argument>


        

<argument>

myuser

</argument>


        

<argument>

mypassword

</argument>


    

</service>



    

<service

 

id=

"session.handler.pdo"

 

class=

"Symfony\Component\HttpFoundation\Session\Storage\Handler\PdoSessionHandler"

>


        

<argument

 

type=

"service"

 

id=

"pdo"

 

/>


        

<argument>

%pdo.db_options%

</argument>


    

</service>




</services>




PHP

 1
 2
 3
 4
 5
 6
 7
 8
 9
10
11
12
13
14
15
16
17
18
19
20
21
22
23
24
25
26
27
28
29
30
31

// app/config/config.php




use

 

Symfony\Component\DependencyInjection\Definition

;




use

 

Symfony\Component\DependencyInjection\Reference

;





$container

->

loadFromExtension

(

'framework'

,

 

array

(


    

...

,


    

'session'

 

=>

 

array

(


        

// ...,


        

'handler_id'

 

=>

 

'session.handler.pdo'

,


    

),




));





$container

->

setParameter

(

'pdo.db_options'

,

 

array

(


    

'db_table'

      

=>

 

'session'

,


    

'db_id_col'

     

=>

 

'session_id'

,


    

'db_data_col'

   

=>

 

'session_value'

,


    

'db_time_col'

   

=>

 

'session_time'

,




));





$pdoDefinition

 

=

 

new

 

Definition

(

'PDO'

,

 

array

(


    

'mysql:dbname=mydatabase'

,


    

'myuser'

,


    

'mypassword'

,




));




$container

->

setDefinition

(

'pdo'

,

 

$pdoDefinition

);





$storageDefinition

 

=

 

new

 

Definition

(

'Symfony\Component\HttpFoundation\Session\Storage\Handler\PdoSessionHandler'

,

 

array

(


    

new

 

Reference

(

'pdo'

),


    

'%pdo.db_options%'

,




));




$container

->

setDefinition

(

'session.handler.pdo'

,

 

$storageDefinition

);



db_table: The name of the session table in your database
db_id_col: The name of the id column in your session table (VARCHAR(255) or larger)
db_data_col: The name of the value column in your session table (TEXT or CLOB)
db_time_col: The name of the time column in your session table (INTEGER)
Example SQL Statements¶
MySQL¶
The SQL statement for creating the needed database table might look like the following (MySQL):
CREATE

 

TABLE

 

`

session

`

 

(


    

`

session_id

`

 

varchar

(

255

)

 

NOT

 

NULL

,


    

`

session_value

`

 

text

 

NOT

 

NULL

,


    

`

session_time

`

 

int

(

11

)

 

NOT

 

NULL

,


    

PRIMARY

 

KEY

 

(

`

session_id

`

)




)

 

ENGINE

=

InnoDB

 

DEFAULT

 

CHARSET

=

utf8

;



PostgreSQL¶
For PostgreSQL, the statement should look like this:
CREATE

 

TABLE

 

session

 

(


    

session_id

 

character

 

varying

(

255

)

 

NOT

 

NULL

,


    

session_value

 

text

 

NOT

 

NULL

,


    

session_time

 

integer

 

NOT

 

NULL

,


    

CONSTRAINT

 

session_pkey

 

PRIMARY

 

KEY

 

(

session_id

)




);



Microsoft SQL Server¶
For MSSQL, the statement might look like the following:
 1
 2
 3
 4
 5
 6
 7
 8
 9
10
11
12
13
14

CREATE

 

TABLE

 

[

dbo

].[

session

](


        

[

session_id

]

 

[

nvarchar

](

255

)

 

NOT

 

NULL

,


        

[

session_value

]

 

[

ntext

]

 

NOT

 

NULL

,


    

[

session_time

]

 

[

int

]

 

NOT

 

NULL

,


            

PRIMARY

 

KEY

 

CLUSTERED

(


                    

[

session_id

]

 

ASC


            

)

 

WITH

 

(


                

PAD_INDEX

  

=

 

OFF

,


                

STATISTICS_NORECOMPUTE

  

=

 

OFF

,


                

IGNORE_DUP_KEY

 

=

 

OFF

,


                

ALLOW_ROW_LOCKS

  

=

 

ON

,


                

ALLOW_PAGE_LOCKS

  

=

 

ON


            

)

 

ON

 

[

PRIMARY

]




)

 

ON

 

[

PRIMARY

]

 

TEXTIMAGE_ON

 

[

PRIMARY

]



---
IN THE NEWS
Announcing the next Symfony Live Conference 2013 in Portland