---
Be trained by SensioLabs experts (2 to 6 day sessions -- French or English).
trainings.sensiolabs.com
ServerGrove, outstanding support at the right price for your Symfony hosting needs.
servergrove.com
Access to the SensioLabs Competency Center for an exclusive and tailor-made support on Symfony
sensiolabs.com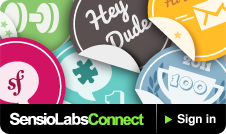 Symfony Trademark License
Contact us using the form below if you'd like to request a Symfony trademark license, or have any other trademark enquiry.
IN THE NEWS
Announcing the next Symfony Live Conference 2013 in Portland