Archives
---
Be trained by SensioLabs experts (2 to 6 day sessions -- French or English).
trainings.sensiolabs.com
ServerGrove, outstanding support at the right price for your Symfony hosting needs.
servergrove.com
Access to the SensioLabs Competency Center for an exclusive and tailor-made support on Symfony
sensiolabs.com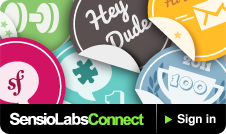 Archives for 11/2006
---
At last, the trunk pass from alpha to beta status, and the next big release will be the 1.0 stable.
---
And the winner is...
by Francois Zaninotto – November 16, 2006
The webdesign contest for the symfony default pages is finished. Check out the winner!
---
Francois and Fabien will be attending the PHP Forum in Paris (9-10 Nov.)
IN THE NEWS
Announcing the next Symfony Live Conference 2013 in Portland