Archives
---
Be trained by SensioLabs experts (2 to 6 day sessions -- French or English).
trainings.sensiolabs.com
Access to the SensioLabs Competency Center for an exclusive and tailor-made support on Symfony
sensiolabs.com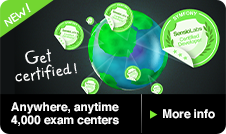 Archives for 12/2010
---
Form and Validation components were heavily updated this week, including the refactorization of code to a new Locale component and the implementation of new fields and constraints. In addition, Doctrine project published the first stable release of Doctrine 2.0.
---
---
This week, the definitive schedule for Symfony Live 2011 conference was published. Meanwhile, Symfony2 development activity focused on small tweaks and code refactoring.
---
This week, the Symfony2 Preview Release 4 version was released. Despite being far from finished, this is a full-featured version and therefore it's the best way to learn the new Symfony2 philosophy.
---
Symfony2 PR4 released today.
IN THE NEWS

Symfony Certification: Now in 4,000 centers around the world!