Archives
---
Be trained by SensioLabs experts (2 to 6 day sessions -- French or English).
trainings.sensiolabs.com
ServerGrove, outstanding support at the right price for your Symfony hosting needs.
servergrove.com
Access to the SensioLabs Competency Center for an exclusive and tailor-made support on Symfony
sensiolabs.com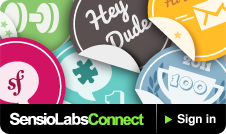 Documentation
---
Frequently asked questions about the "Practical symfony" book, such as shipping costs, allowed payment methods and the quality of the printed book.
---
As of today, most of the symfony documentation is available as PDF files.
---
I am happy to announce the immediate availability of the "Practical symfony" paper book for Doctrine.
---
Follow the Jobeet 24 day tutorial using Doctrine!
---
Today I am happy to introduce the first official piece of documentation for symfony and Doctrine.
---
Even if symfony has already one of the best documentation ever for an Open-Source project, you can help us make it even better.
---
During the last weeks, the symfony core team has spent a lot of time polishing the documentation.
---
A better interface to the online documentation
---
A brand new browseable API is available online.
IN THE NEWS
Announcing the next Symfony Live Conference 2013 in Portland