Archives
---
Be trained by SensioLabs experts (2 to 6 day sessions -- French or English).
trainings.sensiolabs.com
ServerGrove, outstanding support at the right price for your Symfony hosting needs.
servergrove.com
Access to the SensioLabs Competency Center for an exclusive and tailor-made support on Symfony
sensiolabs.com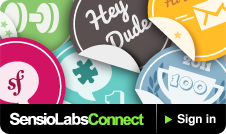 Living on the edge
---
As the first beta version of symfony 1.2 is about to be released, I want to have a look at the current state of the documentation for this new version and what must be done before the final release
---
In this post, I will describe the general concepts of the new admin generator. The chapter about the admin generator in the symfony book has already been updated, so you can start reading it right away.
---
Control everything that is Doctrine from a nice web interface. Its primary feature is the ability to control your Doctrine schema from your browser using a set of symfony forms.
---
The symfony framework has always been bundled with a functional testing framework and it is certainly one of its main strengths. Each release of symfony makes the functional testing framework even better. Today, I will show you all the goodness we have added for the symfony 1.2 version. Be prepared to be amazed!
---
When displaying a form, you often want the user to make a choice amongst a list of possibilities. symfony 1.2 comes with a new widget called sfWidgetFormChoice. sfWidgetFormChoice is an abstract widget in the sense that it delegates the rendering to another widget (the renderer widget). Let's see how it works in this post.
---
In this new installment of "Small things matter", I will yet again talk about things that makes symfony easier for newcomers and more flexible for advanced users.
---
symfony 1.1 introduced native support for different formats and mime-types. But there was one missing piece: error support. That's fixed in symfony 1.2, thanks to the great work of Kris Wallsmith.
---
Here comes the third edition of small things that might make you happy in symfony 1.2.
---
Symfony 1.2 already comes with a lot of great new features but smaller things also matter a lot. Here is yet another post about small things we have recently added to symfony 1.2.
---
Yesterday, I have committed the first slew of changes to the routing framework. Thanks to this refactoring, developers have new opportunities to customize the routing and this will allow very cool features in the very near future. But today, let's dive into the goodness of the symfony 1.2 routing framework.
---
As for every symfony version, we try to simplify the API and make it more intuitive and powerful. Here are some examples that you will soon enjoy in symfony 1.2.
---
The symfony web debug toolbar is one of the developer best friend. It is always conveniently accessible in the browser when using the development environment. It gives you everything you need to know about the current page and ease the debugging of your applications. Until now, all the information available in this toolbar were hardcoded. But as of symfony 1.2, the web debug toolbar is entirely configurable.
IN THE NEWS
Announcing the next Symfony Live Conference 2013 in Portland