Archives
---
Be trained by SensioLabs experts (2 to 6 day sessions -- French or English).
trainings.sensiolabs.com
ServerGrove, outstanding support at the right price for your Symfony hosting needs.
servergrove.com
Access to the SensioLabs Competency Center for an exclusive and tailor-made support on Symfony
sensiolabs.com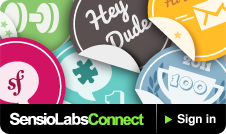 Security Advisories
---
symfony 1.0.16 is out and fixes an important security breach.
---
symfony 1.0.13 has been released to fix an important bug in the tag helper. Please consider upgrading as soon as you can.
---
After two months and more than 30 tickets closed, the 1.0.12 comes with spring. As it fixes an important security issue and windows plugins problems, we do strongly advise to update your projects.
---
symfony 1.0.5 released (security fix)
IN THE NEWS
Announcing the next Symfony Live Conference 2013 in Portland