Questions & Feedback
Found a typo or an error?
Want to improve this document? Edit it.
Need support or have a technical question?
Post to the user mailing-list.

This
work
is licensed under a
Creative Commons
Attribution-Share Alike 3.0
Unported
License
.
---
Be trained by SensioLabs experts (2 to 6 day sessions -- French or English).
trainings.sensiolabs.com
Access to the SensioLabs Competency Center for an exclusive and tailor-made support on Symfony
sensiolabs.com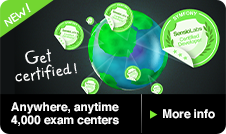 master version

HTTP Cache
HTTP Cache¶
The nature of rich web applications means that they're dynamic. No matter how efficient your application, each request will always contain more overhead than serving a static file.
And for most Web applications, that's fine. Symfony2 is lightning fast, and unless you're doing some serious heavy-lifting, each request will come back quickly without putting too much stress on your server.
But as your site grows, that overhead can become a problem. The processing that's normally performed on every request should be done only once. This is exactly what caching aims to accomplish.
---
IN THE NEWS

Symfony Certification: Now in 4,000 centers around the world!