Archives
---
Be trained by SensioLabs experts (2 to 6 day sessions -- French or English).
trainings.sensiolabs.com
ServerGrove, outstanding support at the right price for your Symfony hosting needs.
servergrove.com
Access to the SensioLabs Competency Center for an exclusive and tailor-made support on Symfony
sensiolabs.com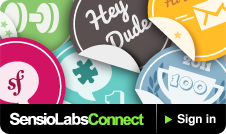 Blog
A week of symfony #126 (25->31 May 2009)
Symfony CLI and tasks focused development activity during this week. In addition, symfony introduced its getting started guide, that will become the definitive place to find all the information related to the symfony installation process.
Development mailing list
Development highlights
Development digest: 188 changesets, 18 bugs reported, 13 bugs fixed, 5 enhancements suggested, 1 enhancement closed, 9 documentation defects reported, 4 documentation defects fixed, and 3 documentation edits.
Documentation
Plugins
Updated plugins
They talked about us
IN THE NEWS
Announcing the next Symfony Live Conference 2013 in Portland