Archives
---
Be trained by SensioLabs experts (2 to 6 day sessions -- French or English).
trainings.sensiolabs.com
ServerGrove, outstanding support at the right price for your Symfony hosting needs.
servergrove.com
Access to the SensioLabs Competency Center for an exclusive and tailor-made support on Symfony
sensiolabs.com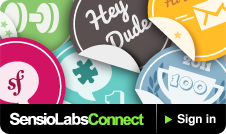 Blog
A week of symfony #224 (11->17 April 2011)
This week, the new Symfony2 forms were declared in beta state and functional tests added support for cookies and sessions. Meanwhile, Symfony2-based micro-framework Silex gained form and swiftmailer support and could even include a small admin generator. Lastly, symfony community started a campaign to ask NetBeans IDE to add support for Symfony2.
Development mailing list
Symfony2 development highlights
Updated plugins
They talked about us
IN THE NEWS
Announcing the next Symfony Live Conference 2013 in Portland