Archives
---
Be trained by SensioLabs experts (2 to 6 day sessions -- French or English).
trainings.sensiolabs.com
ServerGrove, outstanding support at the right price for your Symfony hosting needs.
servergrove.com
Access to the SensioLabs Competency Center for an exclusive and tailor-made support on Symfony
sensiolabs.com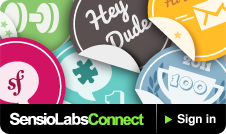 Blog
A week of symfony #47 (19->25 november 2007)
Symfony has completed the last piece of the new form mechanism so the release of the 1.1 version could be inminent.
Development mailing list
Development highlights
Development digest: 62 changesets, 21 defects created, 7 defects closed, 5 enhancements created, 3 enhancement closed, 3 documentation defects created and 74 documentation edits.
Book and documentation
Wiki
New Job Postings:

Symfony Developer - full-time based in Suresnes, France - Contact: bdessemond [at] imacus [dot] com
Symfony Developer - full-time based in Abidjan, Cote d'Ivoire - Mlogik Cote d'Ivoire - Contact: job [at] mlogik [dot] net
Symfony Developer - full-time based in Vienna, Austria - 2beFound Performance Marketing GmbH. - Contact: office [at] 2befound [dot] at
Symfony Developer - initial one month contract based in London, UK - Contact: Paul.Thomson [at] johnbrowngroup [dot] co [dot] uk
Plugins
New plugins
Updated plugins
Some new symfony powered websites
They talked about us
IN THE NEWS
Announcing the next Symfony Live Conference 2013 in Portland