Archives
---
Be trained by SensioLabs experts (2 to 6 day sessions -- French or English).
trainings.sensiolabs.com
ServerGrove, outstanding support at the right price for your Symfony hosting needs.
servergrove.com
Access to the SensioLabs Competency Center for an exclusive and tailor-made support on Symfony
sensiolabs.com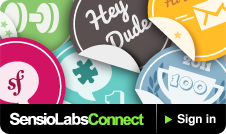 Archives for 10/2005
---
A new chapter of the documentation explains in detail how to setup a symfony application using alias instead of virtual host.
---
Cerad posted a very good tutorial on the wiki to describe his installation of symfony without using PEAR.
---
A classic Forum has been added to the symfony website. Click on the 'community' link to get to it.
---
I just released symfony 0.4.1 which fixed a case-sensitivity problem in the generate-propelcrud symfony task.
---
Some people were not able to download symfony PEAR package or the .tgz files because of a misconfigured firewall which prevented downloads to work properly. I hoped it is fixed now.
---
For the many curious visitors that want to see a symfony application in action, we just published a new tutorial : "My first project".
IN THE NEWS
Announcing the next Symfony Live Conference 2013 in Portland