Archives
---
Be trained by SensioLabs experts (2 to 6 day sessions -- French or English).
trainings.sensiolabs.com
Access to the SensioLabs Competency Center for an exclusive and tailor-made support on Symfony
sensiolabs.com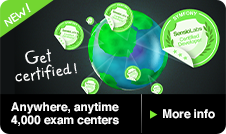 Blog
New in Symfony 2.5: Better Error Messages for undefined Methods
Symfony 2.4 added great error messages for missing classes and functions. As of 2.5, Symfony will also help you debug undefined method calls.
Here is the kind of messages you will get in such cases:
"Attempted to call method "offsetFet" on class "SplObjectStorage" in foo.php line 12. Did you mean to call: "offsetSet", "offsetUnset", or "offsetGet"?"
IN THE NEWS

Symfony Certification: Now in 4,000 centers around the world!