Archives
---
Be trained by SensioLabs experts (2 to 6 day sessions -- French or English).
trainings.sensiolabs.com
ServerGrove, outstanding support at the right price for your Symfony hosting needs.
servergrove.com
Access to the SensioLabs Competency Center for an exclusive and tailor-made support on Symfony
sensiolabs.com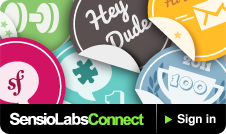 Blog
Read the symfony documentation offline
As of today, most of the symfony documentation is available as PDF files.
The PDF files are available for all major symfony versions. You can download the Jobeet tutorial for Propel or Doctrine, the Forms book, or the Cookbook. Tutorials are also available like the "What's new?" tutorial for symfony 1.2. Even the good old askeet tutorial has been converted to PDF.
For symfony 1.2, the PDF files represent more than 1300 pages of documentation!
The PDFs will be always up-to-date with the latest version of the documentation as they are re-generated each night.
IN THE NEWS
Announcing the next Symfony Live Conference 2013 in Portland