Archives
---
Be trained by SensioLabs experts (2 to 6 day sessions -- French or English).
trainings.sensiolabs.com
ServerGrove, outstanding support at the right price for your Symfony hosting needs.
servergrove.com
Access to the SensioLabs Competency Center for an exclusive and tailor-made support on Symfony
sensiolabs.com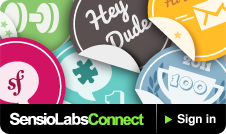 Blog
Security release: Symfony 2.0.22 and 2.1.7 released
Symfony 2.0.22 and Symfony 2.1.7 have just been released and they both contain security fixes for the YAML component (CVE-2013-1348 and CVE-2013-1397).
CVE-2013-1348: Ability to enable/disable PHP parsing in Yaml::parse()¶
CVE-2013-1397: Ability to enable/disable object support in YAML parsing and dumping¶
IN THE NEWS
Announcing the next Symfony Live Conference 2013 in Portland