Archives
---
Be trained by SensioLabs experts (2 to 6 day sessions -- French or English).
trainings.sensiolabs.com
Access to the SensioLabs Competency Center for an exclusive and tailor-made support on Symfony
sensiolabs.com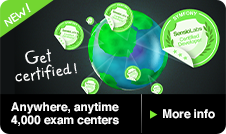 Blog
Security Release: Symfony 2.1.0 RC2 released
I've just released the second release candidate for Symfony 2.1.0.
This release contains several security fixes related to the way XML is handled, and as such, we recommend everyone to upgrade. These issues have been also fixed in Symfony 2.0. Read the 2.0.17 announcement for more details.
After upgrading (see below), run the web/config.php script from your browser and the app/check.php script from the CLI to check if your PHP environment is setup properly. As we have added new checks, you might find some stuff to tweak.
If you have already upgraded to RC1, have a look at the changes you need to make to upgrade to RC2.
If you have not tried to upgrade yet, first read the UPGRADE file that comes with Symfony Standard Edition, then the UPGRADE file that comes with Symfony.
This is probably the last release candidate for Symfony 2.1.0. If everything goes fine, the final release will be published next week.
IN THE NEWS

Symfony Certification: Now in 4,000 centers around the world!