Archives
---
Be trained by SensioLabs experts (2 to 6 day sessions -- French or English).
trainings.sensiolabs.com
ServerGrove, outstanding support at the right price for your Symfony hosting needs.
servergrove.com
Access to the SensioLabs Competency Center for an exclusive and tailor-made support on Symfony
sensiolabs.com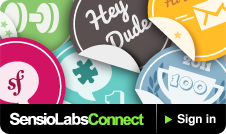 Blog
Just two days after the first alpha release of symfony 1.3, I'm proud to announce that both the Practical symfony book (aka the Jobeet tutorial) and the symfony reference guide have been updated to take into account the new features of this version of symfony.
For instance, you can start using the new mailer feature of symfony 1.3 by reading day 16 of Jobeet, and learn about all its configuration possibilities by digging through the factories chapter of the reference guide.
Even if symfony 1.3.0 alpha1 has just been released, you already have access to a lot of up-to-date documentation:
It means that we have plenty of documentation whether you want to discover symfony 1.3 or switch from a previous version.
All in all, symfony 1.3 already has more than 650 pages of documentation.
IN THE NEWS
Announcing the next Symfony Live Conference 2013 in Portland