Archives
---
Be trained by SensioLabs experts (2 to 6 day sessions -- French or English).
trainings.sensiolabs.com
ServerGrove, outstanding support at the right price for your Symfony hosting needs.
servergrove.com
Access to the SensioLabs Competency Center for an exclusive and tailor-made support on Symfony
sensiolabs.com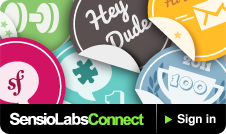 Blog
Last week, 620 people attended the Symfony Live conference in Paris. The weather was not quite as expected, but the conference was full of attendees willing to share their experience with the framework.
John Kary did a wonderful job in collecting as many slides as possible:
Day 1
What do I get from the full stack framework? - Richard Miller
wetter.com - Relaunch with symfony2, Assetic, Varnish and Twig - Gaylord Aulke
A unified SOAP/JSON API in Symfony2 - Craig Marvelley
Day 2
Advanced Service Container Utilization - Richard Miller
Symfony2 CMF - Lukas Kahwe Smith
Symfony Live was also the occasion to launch the Symfony Certification program. Congratulations to the first certified developers.
I also want to take the time to thank all our sponsors for this Symfony Live Edition:
If you live in the Americas, don't miss the Symfony Live Conference in San Francisco.
IN THE NEWS
Announcing the next Symfony Live Conference 2013 in Portland