Archives
---
Be trained by SensioLabs experts (2 to 6 day sessions -- French or English).
trainings.sensiolabs.com
Access to the SensioLabs Competency Center for an exclusive and tailor-made support on Symfony
sensiolabs.com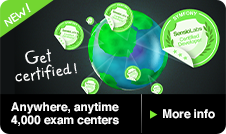 Tutorials
---
Symfony is compatible with both windows and IIS. If you wonder how to setup symfony to have it work with IIS, check out our new tutorial.
---
For those of you who wondered how to setup a multilingual project, the new chapter published in the book should clear a few dark zones.
---
To demonstrate the spectacular possibilities of AJAX in web applications built with symfony, a new tutorial and a screencast have just been published. Check them out!
---
Cerad posted a very good tutorial on the wiki to describe his installation of symfony without using PEAR.
---
For the many curious visitors that want to see a symfony application in action, we just published a new tutorial : "My first project".
IN THE NEWS

Symfony Certification: Now in 4,000 centers around the world!