Archives
---
Be trained by SensioLabs experts (2 to 6 day sessions -- French or English).
trainings.sensiolabs.com
ServerGrove, outstanding support at the right price for your Symfony hosting needs.
servergrove.com
Access to the SensioLabs Competency Center for an exclusive and tailor-made support on Symfony
sensiolabs.com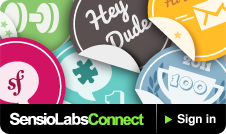 Blog
Symfony 2.0.4 has just been released.
Stability is getting better with each release as we add new unit tests each time we fix a bug. As a matter of fact, since the 2.0.0 release at the end of July, we have added 59 new tests and more than 180 assertions in our test suite.
The CHANGELOG has all the details about the changes and you can even have a look at the full diff.
If you are starting a new project, you can get the Symfony Standard Edition distribution on the download page.
If you already have a project based on the Symfony Standard Edition 2.0.x, you can easily upgrade to 2.0.4 by getting the new deps and deps.lock files.
Then, run the vendors script:
$ ./bin/vendors install

And don't forget to clear your cache:
$ php ./app/console cache:clear

IN THE NEWS
Announcing the next Symfony Live Conference 2013 in Portland