Going from Zero to Production
I like to go fast. I want our little project to be live as fast as possible. Like now. In production. As we haven't developed anything yet, we will start by deploying a nice and simple "Under construction" page. You will love it!
Spend some time trying to find the ideal, old fashioned, and animated "Under construction" GIF on the Internet. Here is the one I'm going to use: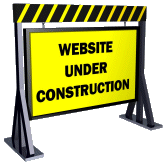 I told you, it is going to be a lot of fun.