Falta apenas 1 mês para o SymfonyLive São Paulo 2019
April 12, 2019
·
Published by
Nicolas Grekas
SymfonyLive conferences are organized in the language of their hosting country. This is why this post is in Portuguese.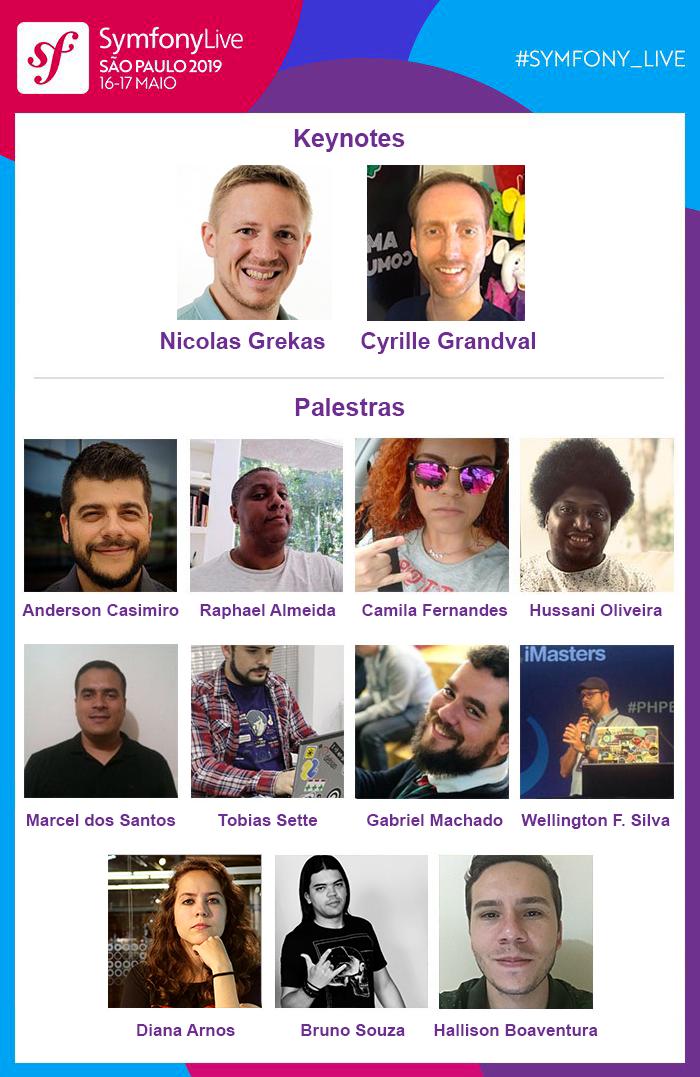 O SymfonyLive São Paulo está chegando! Junte-se a comunidade PHP e Symfony brasileira nos dias 16/17 de Maio 2019.
Nos dias 14 e 15, o evento contará também com 2 workshops totalmente práticos com o renomado Nicolas Grekas: Mastering OOD & Design Patterns no dia 14 e Symfony 4 Best Practices no dia 15.
Aproveite o desconto de R$ 100 no ingresso com o código SFLIVE19.
Foi uma longa caminhada até escolher todas as palestras, mas conseguimos! Passamos muito tempo estudando cuidadosamente todas as propostas recebidas no CFP e mais uma vez agradecemos a todos que enviaram alguma.
Descubra já a grade completa desse 1o SymfonyLive da America Látina! Um grupo de palestrantes sensacional, composto por professores, especialistas, líderes de comunidades, palestrantes internacionais enfim, um grupo extraordinário escolhido cuidadosamente para fazer o SymfonyLive Brasil entrar pra lista dos melhores evento de PHP de toda América Latina.
Conheça quem são esses speakers e quais assuntos eles compartilharão com você durante a conferência:
Dia 16 de Maio
Dia 17 de Maio
A conferência SymfonyLive São Paulo 2019 é uma oportunidade única de compartilhar não somente com o time e a comunidade Symfony, péritos locais e internacionais, mas também de poder descobrir as últimas funcionalidades do Symfony, os usos mais avançados e a evolução do framework nos próximos meses e anos.
Junte-se a comunidade no nosso twitter @SymfonyBrasil, no slack ou no telegram.
Salientando que o SymfonyLive São Paulo é o primeiro evento oficial da Symfony em toda a América Latina, um evento de alto nível técnico feito inteiramente pensando em você.
É hora do Brasil entrar no mapa do Symfony, mas pra isso você precisa fazer sua parte. Seja o protagonista dessa nova era dos eventos internacionais no Brasil. Com você a comunidade Symfony é mais forte.
Help the Symfony project!
As with any Open-Source project, contributing code or documentation is the most common way to help, but we also have a wide range of sponsoring opportunities.
Comments are closed.
To ensure that comments stay relevant, they are closed for old posts.