symfony training in English, French, and German
September 12, 2007
·
Published by
Fabien Potencier
Last June, we organized the very first symfony workshop in Paris. There was a great atmosphere, the weather was nice, but most importantly, the food was excellent! Thanks to all attendees, especially the French ones who had to participate in English.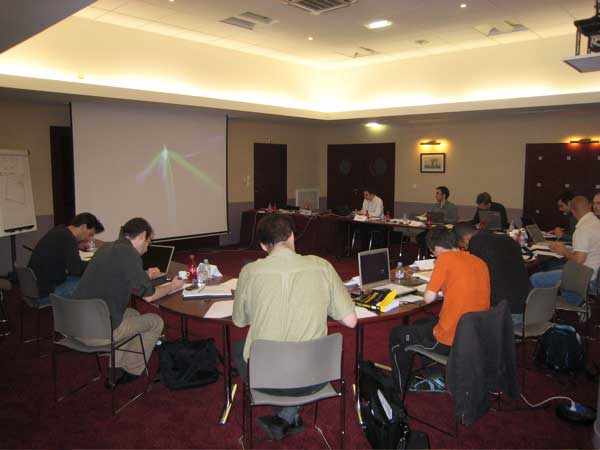 It was such a great success that we have decided to plan new dates: one in early December 2007 and another in February 2008.
A lot of people in the community asked for a French session, so we decided to plan a workshop on December 5th in Paris. As the two trainers will be Fabien and François, we can guarantee that we will not speak a single word of English during the 3 days.
For English speakers, we will have another English workshop beginning on February 13th in Paris. As always, more information is available on the Sensio labs website.
Some people send me emails about the level trainees must have to be able to attend this workshop. Is it for beginners, intermediate or advanced? It really depends on your experience but here is a cheklist you can go through:
You must know PHP5
It's better if you've already developed a website with symfony
You really want to get the big picture of all the pieces working together
You want to learn some best practices of web 2.0 development
You want to apply the principles of rapid application development
If you're French and you want to attend the workshop, we have an early bird registration fee until the end of September. You will also find a "convention de formation " PDF file if needed.
Sprechen Sie Deutsch? Sorry, but neither Fabien nor François speak German... But the well known German PHP-Portal Dynamic Web Pages organizes a symfony-Powercourse which will be held online for 8 hours for € 149, on 1st and 2nd of November 2007. The trainer will be Timo Haberkern, the author of the first German book about symfony. The course infos can be found on their website.
If you organize a symfony training somewhere in the world (or even online), please send me an email and I will be happy to post something on this blog.
Published in
Help the Symfony project!
As with any Open-Source project, contributing code or documentation is the most common way to help, but we also have a wide range of sponsoring opportunities.
Comments are closed.
To ensure that comments stay relevant, they are closed for old posts.