Deploying to Microsoft Azure Website Cloud
Edit this page
Warning: You are browsing the documentation for Symfony 3.3, which is no longer maintained.
Consider upgrading your projects to Symfony 7.0.
This step by step article describes how to deploy a small Symfony web application to the Microsoft Azure Website cloud platform. It will explain how to set up a new Azure website including configuring the right PHP version and global environment variables. The document also shows how you can leverage Git and Composer to deploy your Symfony application to the cloud.
To set up a new Microsoft Azure Website, first sign up with Azure or sign in with your credentials. Once you're connected to your Azure Portal interface, select the New panel. On this panel, use the search bar, search for Web App + MySQL and choose Web App + MySQL by Microsoft and click Create: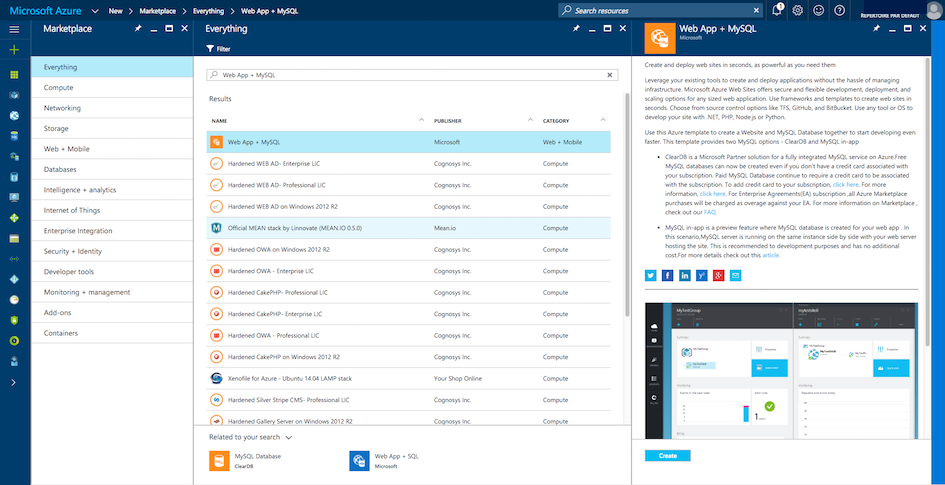 Here, you will be prompted to fill in some basic information.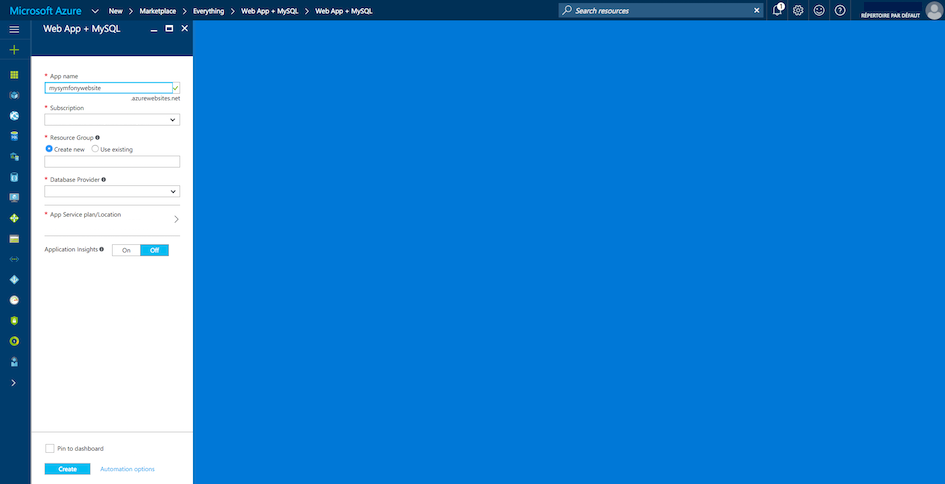 For the URL, enter the URL that you would like to use for your Symfony application, then select your Subscription, Create a new Resource Group (which is a collection of resources that share the same lifecycle, permissions and policies). Pick ClearDB as a Database Provider. Create a new App Service plan/Location you will be prompted to set up your app service plan with a name, a region and a pricing tier. Then create a new Database, you will be prompted to set up your MySQL database storage with a database name and a region. The MySQL database storage is provided by Microsoft in partnership with ClearDB. Choose the same region you selected for App Service plan.
Click Create to continue.
Once you created the web site, select All resources in the left menu and choose the website you just created.
Now, select Deployment options under APP DEPLOYMENT, select Choose Source and choose Local Git repository to configure your Azure Website credentials. If you choose a different source like GitHub or Bitbucket you can ignore the next step.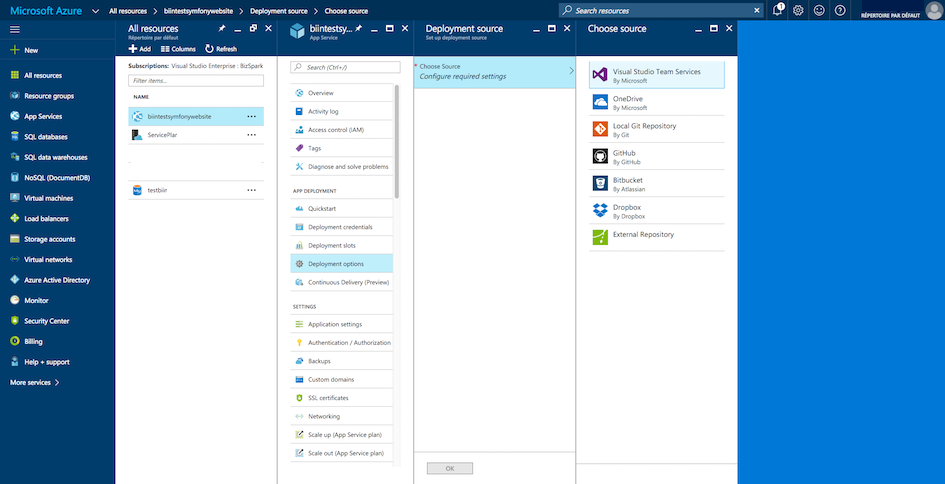 Once you selected Local Git repository, click Setup connection you will be prompted to create a username and a secure password: these will become essential identifiers to connect to the FTP server and also to push your application code to the Git repository.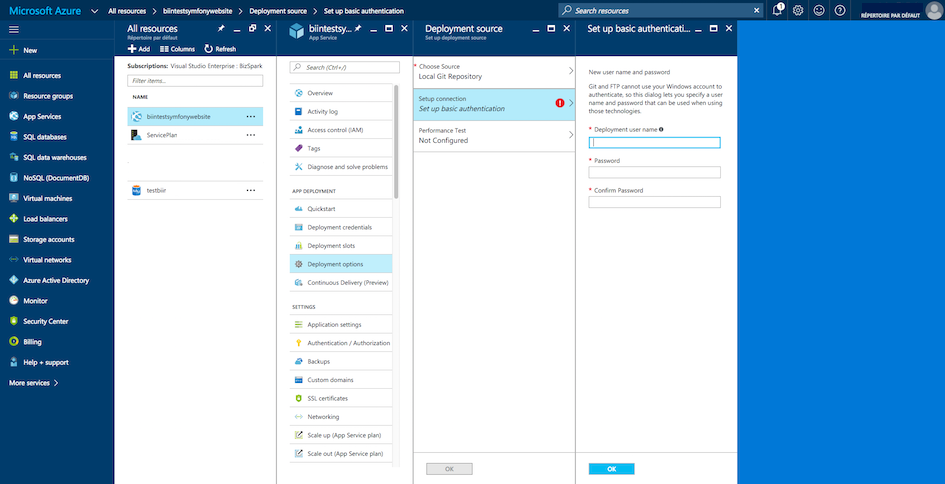 Congratulations! Your Azure Website is now up and running. You can check it by browsing to the Website url you configured in the first step. You should see the following display in your web browser: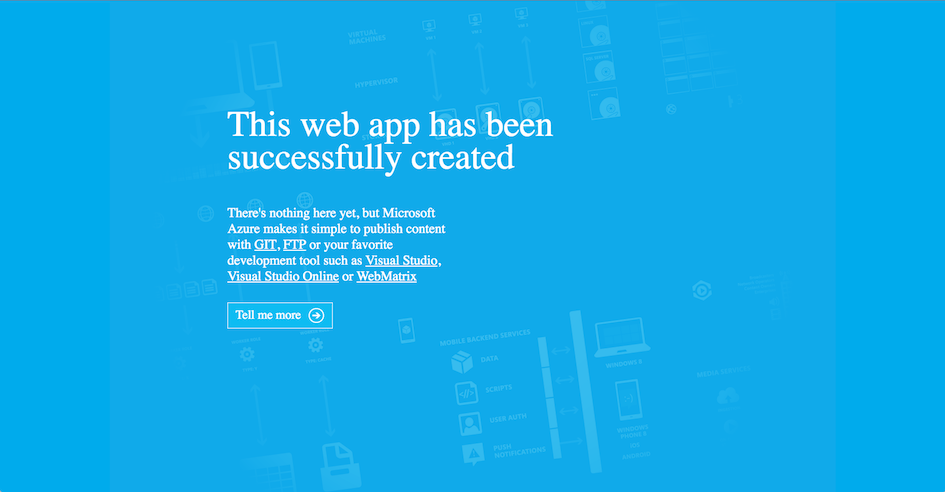 The Microsoft Azure portal also provides a complete control panel for the Azure Website.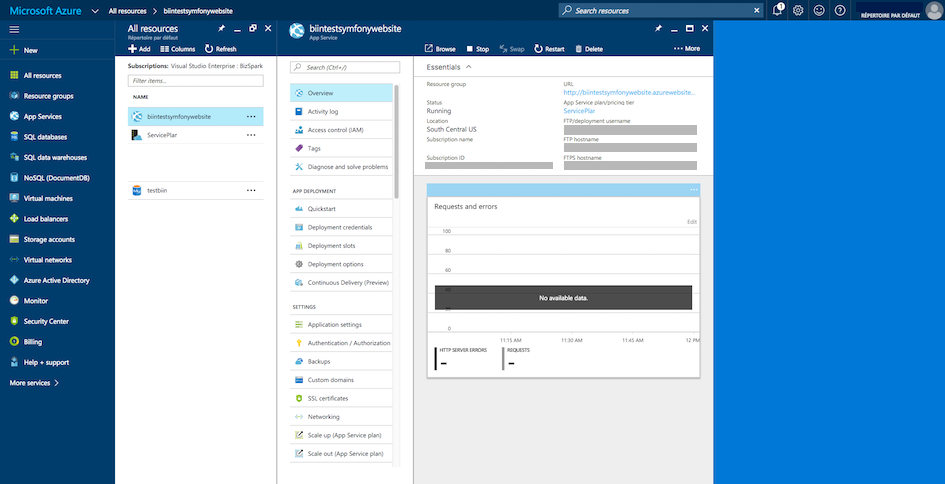 Your Azure Website is ready! But to run a Symfony site, you need to configure just a few additional things.
This section of the tutorial details how to configure the correct version of PHP to run Symfony. It also shows you how to enable some mandatory PHP extensions and how to properly configure PHP for a production environment.
Nice work! You've now deployed your Symfony application to the Microsoft Azure Website Cloud platform. You also saw that Symfony can be easily configured and executed on a Microsoft IIS web server. The process is simple and easy to implement. And as a bonus, Microsoft is continuing to reduce the number of steps needed so that deployment becomes even easier.