SymfonyCon Warsaw 2013 was a blast!
December 20, 2013
·
Published by
Anne-Sophie Bachelard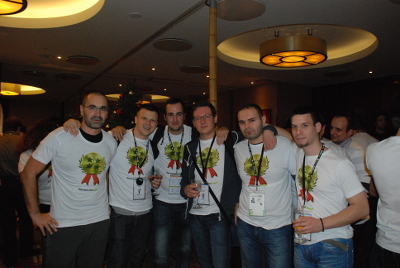 A week now since the SymfonyCon took place for the first time ever. For this first edition, Warsaw welcomed us for an entire week of Symfony! It was a real pleasure to see you all there and we really hope you had a great time with us.
About 600 people came for the conference, 150 during the hacking day, 40 got trained by our super trainers and 18 took the Symfony Certification exam. The wifi was shity, apologies again for that, but the food was delicious, Polish food is really good! The talks were awesome thanks to all of our 22 international and national speakers. By the way, don't forget to leave a feedback about their talk on joind.in, they really need it. All the talks will be available soon on SensioLabs' YouTube channel, subscribe to the channel to get the latest news. And all the pictures are available on SensioLabs Facebook fan page.
This SymfonyCon was also the occasion to organize the very first Symfony Awards Ceremony to reward all the Symfony Community and Business Awards. If you missed them, here are the winners per category.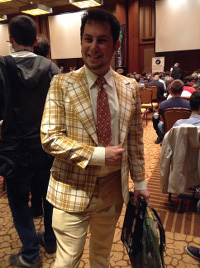 But we forgot to reward the last Symfony Community Award. Actually this Award is a very special one. Every year, we'll now reward one special Community member for his entire work, enthusiasm, energy, implication and so ones, that he or she have made for the SymfonyCon! I'm very pleased to announce that for SymfonyCon Warsaw 2013, the 2013 Special SymfonyCon Award goes to ……….. Jeremy Mikola!! After a great talk, an incredible Jeopardy (with an exceptional entrance), an hilarious lightning talk and a super fun karaoke, we thought that he totally deserved it! Thanks Jeremy and congratulations!
To conclude, we'd like to thank you all of our sponsors for their support and confidence through the organization of the conference. Many thanks to our Gold Sponsors, they all had a cool stand: XSolve for the cool poker cards, Theodo for the fun lights saber and the waffles; and Zend for the elePHPant hunt. Thanks also to Acilia, our Silver Sponsor and thank you to all our Bronze Sponsors: Creativestyle and eZ Systems. Finally, a big thanks to GitHub for their Coffee Sponsorship! Oh, and I also need to thank SensioLabsInsight for the awesome Cocktail Party we had on Thursday night all together. We are so glad that you all played the game with the dress code. That party was amazing, all of us, the 600 people were wearing the SensioLabsInsight t-shirt, what a launch! I hope you noticed that each event hostess was wearing a different SensioLabsInsight t-shirt, each of them had one of the medal. On top of that, Grégory and Fabien had the two special SensioLabsInsight medals on their t-shirt, did you see that? This party was crazy, we were really happy to see you all coming and have such a good time with us. Enjoy the pictures!
Now, I hope you're all ready for next year conference in Madrid, it's going to be "de puta madre".
Madrid 2014 we're coming!
Help the Symfony project!
As with any Open-Source project, contributing code or documentation is the most common way to help, but we also have a wide range of sponsoring opportunities.
Comments are closed.
To ensure that comments stay relevant, they are closed for old posts.